Shopping for antiques in Moscow: Best flea markets
Not all of us are ready to spend money on standards largely offered souvenirs, such as refrigerator magnets or Russian nesting dolls (Matryoshkas). At least some of us agree to invest in a Matryoshka with a story, crafted by masters of the previous century.  Moscow flea market is the best place to find vintage and antique souvenirs.
Where exactly can tourists who are visiting the country for the first time find such rare items? It is possible to take the easy way out by going to an antique's store and pay the triple price for an item that was selected by somebody else's taste?
You know what? It is way more exciting to head to the flea market in order to experience the authentic life of the city, feel the country's history, examine antiques, chat with the locals there who set up shop and, in the sea of nonsense, catch your own goldfish.
Levsha Flea Market
The biggest adventure awaiting you is at the Levsha flea market in the Moscow suburb. This is the real bottom of the city, which unites people on the weekends from various walks of life: from fallen alcoholics attempting to sell their stitched chairs from the 1970s; diggers with attributes from the times of the First and Second World Wars; Russian grannies who bring their Tsarist era silverware and porcelain to Art experts seeking their chance to find paintings of Vrubel stored in the attic.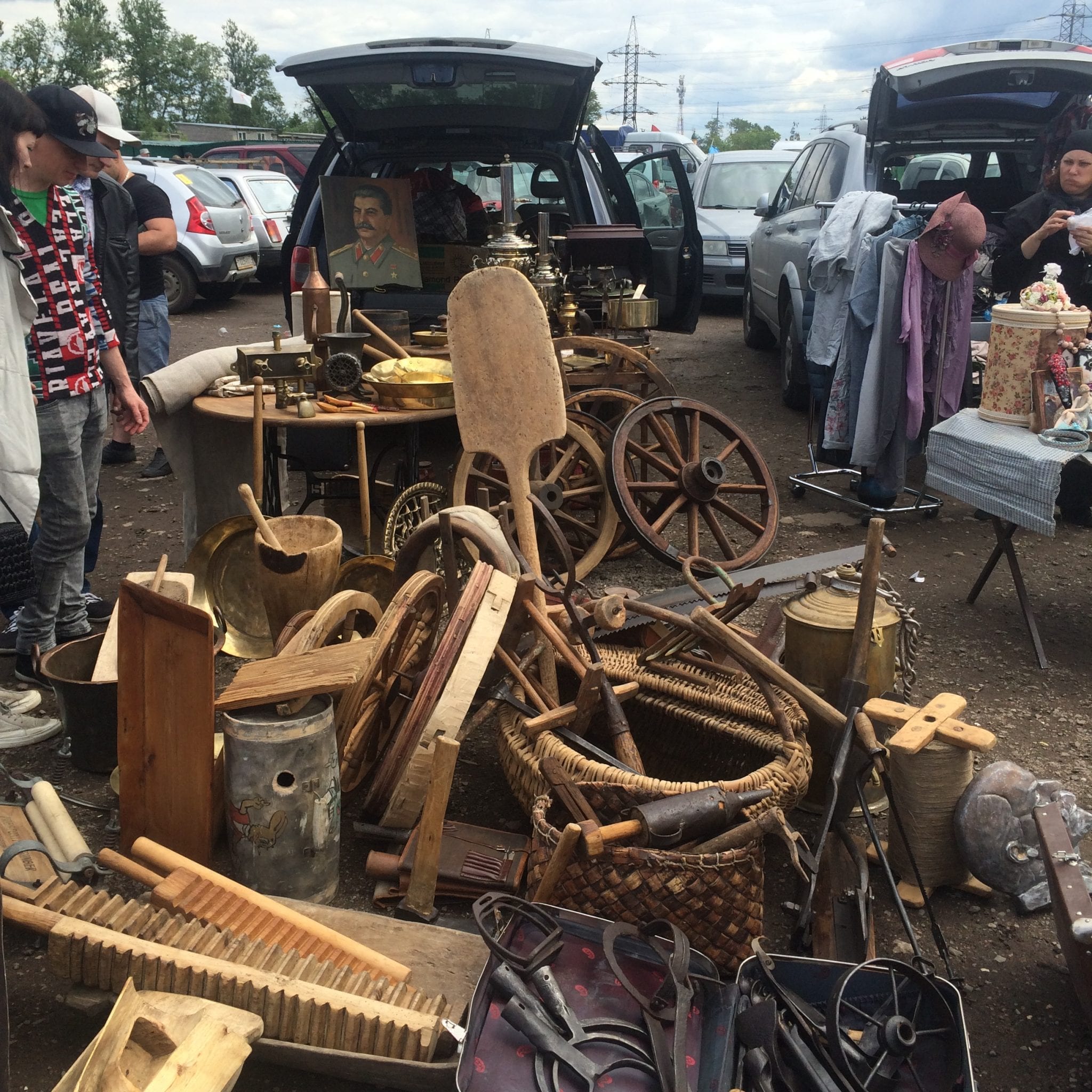 Things to keep in mind:
Poor infrastructure, lack of conventional restrooms and cafes on the territory
Located 1 hour by taxi from the center of the city (same amount of time by train)
You should probably bring along a Russian-speaking friend, as the possibility of someone at the market knowing a foreign language is quite low
The market operates only on weekends from 8am-1:00 pm
---
Izmailovo Kremlin Moscow Flea Market
Another great place for Moscow antique shopping is the Izmailovo Kremlin, a village that has been recently built in the Russian style. Newlyweds and guests of the capital love to take pictures here on the picturesque grounds, so that you can be inspired by the landscapes. Here, two markets operate side-by-side: modern souvenir rows and a first-hand flea market. So, at worst, in case you haven't found the rarity you've hoped for, you can let yourself be taken away by the legendary modern imperial porcelain or take a selfie in a headdress (Russian national headpiece, richly decorated with stitches and precious stones).
Things to keep in mind:
The market operates for tourists and the prices here are higher than at Levsha
The market is smaller in size, although the assortment is perhaps better
No national specific formed by alcoholics, Russian grannies, only professional antique merchants are present
The market only operates on weekends
---
Moscow Flea Market near Tretyakov Gallery
Lastly, literally every day you can hit the Moscow flea market that's being organized just for creative-minded tourists just opposite the new building of the Tretyakov Gallery on Krimsky Val.
Things to keep in mind:
In common sense it's an organized modern space with vintage items.
---
Whether you actually like flea markets or not, they are definitely a cool way to spend half a day, as you will not only stumble upon one weird item after another but also have a chance to talk to locals!
So, who's ready to make some bargains?
---
This blog post was written by Lena Kovaleva, our local guide in Moscow. She is very passionate about antiques, so when she's not showing around travellers she can be found scouring Moscow flea markets. Join her for a casual walk around Moscow or for our metro tour.