Black Friday in Moscow
In Russia and many other countries of the world, the main holiday of shopping lovers in 2019 falls on November 29. Black Friday in Moscow is a real opportunity to buy an expensive and long-desired thing, get gifts for family and friends for Christmas and New Year. This is the best way to save money. 
The most common mistake you can make on Black Friday in Moscow is hasty shopping for fear of missing the current offer. As a result, you can get lots of unnecessary goods at prices that are not suitable. Here are some simple rules to keep in mind:
 
Come early
It's better to come early to assess the situation, so you will have time to compare prices and offered discounts. You will feel more confident, and you will not have to rush from store to store, suspecting that the next price is lower. 
 
Make a list
Going to the store for jeans and returning with a blouse and a bag is a perfectly normal story. But before shopping, it's better to identify a less clear purpose. Before you rush into battle, make a list and check it twice – it is much easier to concentrate when you know exactly what you are looking for. 
Plan your time correctly
During Black Friday in Moscow, many people underestimate how much time and effort it takes to do this kind of shopping. If you go to the store with someone, make sure that your companion is also determined to participate in the Black Friday sales.  Plan your day – where will you go first, when you take a break and how much time you plan to spend.
Think about how much you can spend
You need to determine in advance the amount that you can spend without any doubts on dresses and pants. This will help you to avoid unnecessary frustration and, even worse, debts. 
 
Take both cash and a card
Sometimes some shops give great deals and discounts on the condition of bank transfer, so it would be nice to have money both on the card and in cash.
 
Dress smart
If you go shopping, take care of comfortable clothes. Bear in mind that you will have to change clothes many times. Choose comfortable shoes, because you have to move a lot and quickly.
 
Use social networks
Many brands post news about particularly great sales and special offers on Twitter, Facebook, and Instagram. Sometimes you can find there discount coupons or promotional codes are also offered to subscribers.
 
Do not you know where to go for shopping in Russia?
Moscow has a huge number of shopping centers. But which one to choose for Black Friday in Moscow? We have an answer for you!
 
 Afimall
 Six floors of the shopping center are a shopaholic's paradise. A good selection of products, as well as direct access to the metro made Afimall City a popular place for shopping and recreation. There you can easily find Bershka, Pull and Bear, Reserved and other popular brands. 
The nearest metro stations are Vystavochnaya, Filevskaya line, and Delovoy center, Kalinin-Solntsevskaya line. From there you can go directly to the shopping center. You just need to follow the signs "Exit to the Afimall City shopping center".
Okhotny Ryad mall
Okhotny Ryad is a relatively small shopping complex. But it's no less popular, due to its location in the historical center of the capital of Russia. There you will find a large assortment of clothes, shoes, accessories, jewelry, cosmetics, and household appliances. World sports brands such as New Balance and Nike are featured here.
The easiest way to get to the Okhotny Ryad is by metro. You need to get to the Okhotny Ryad station (red line). Without going outside, you will immediately get to the second floor of the shopping center.

GUM
The proud name of the country's main store is GUM or the State Department Store. It began its history in 1893. Here are collected luxury brands: Dior, Burberry, Gucci, Fendi, Furla, Louis Vuitton, and others.
The shopping center is located in the very center of Moscow, on the Red Square. 

TSUM
A ten-minute walk from the  Red Square will take you to the Central Department Store (TSUM). The TSUM building is an example of the European Gothic with elements of Art Nouveau. The famous architect Klein worked on the building project. Now TSUM is a modern shopping center, where various stores are located on five floors. Here you will find collections of Dolce & Gabbana, Emilio Pucci, Valentino, Loro Piana, Bottega Veneta, Tom Ford, Marni, Sergio Rossi.
You can get to the Central Department Store from the Teatralnaya metro station, through the Theater Square. Or from the Kuznetsky metro station along the street of the same name.
 
Tsvetnoy
From the very beginning, Tsvetnoy shopping mall was conceived as a unique place that would express the spirit of a big city. It's bright, eclectic, mixing styles and cultures and never standing still. Looking for quality jeans?  Then we advise you to look into Siwy, Helmut Lang Denim, Levis XX, as well as James Jeans, Adriano Goldshmeid and King Krash.
The easiest way to get to the shopping center is by metro. The exit from the Tsvetnoy Boulevard station is located nearby. From the metro "Trubnaya" to the mall you must walk 350 m.
Aviapark
Aviapark is the largest shopping center not only in Moscow but also in Europe. There are great opportunities for entertainment and shopping. In this shopping center you can find all the famous fashion brands, including H&M, Monki, Massimo Dutti, Uterque and Stradivarius. 
From all these stations, you can travel by free branded buses travel to get to Aviapark. The schedule is more than convenient, there are buses every 15-20 minutes
This spring the new metro station was opened. The CSKA metro station is only one minute away from Aviapark, which means that getting to the shopping center has become even easier
Metropolis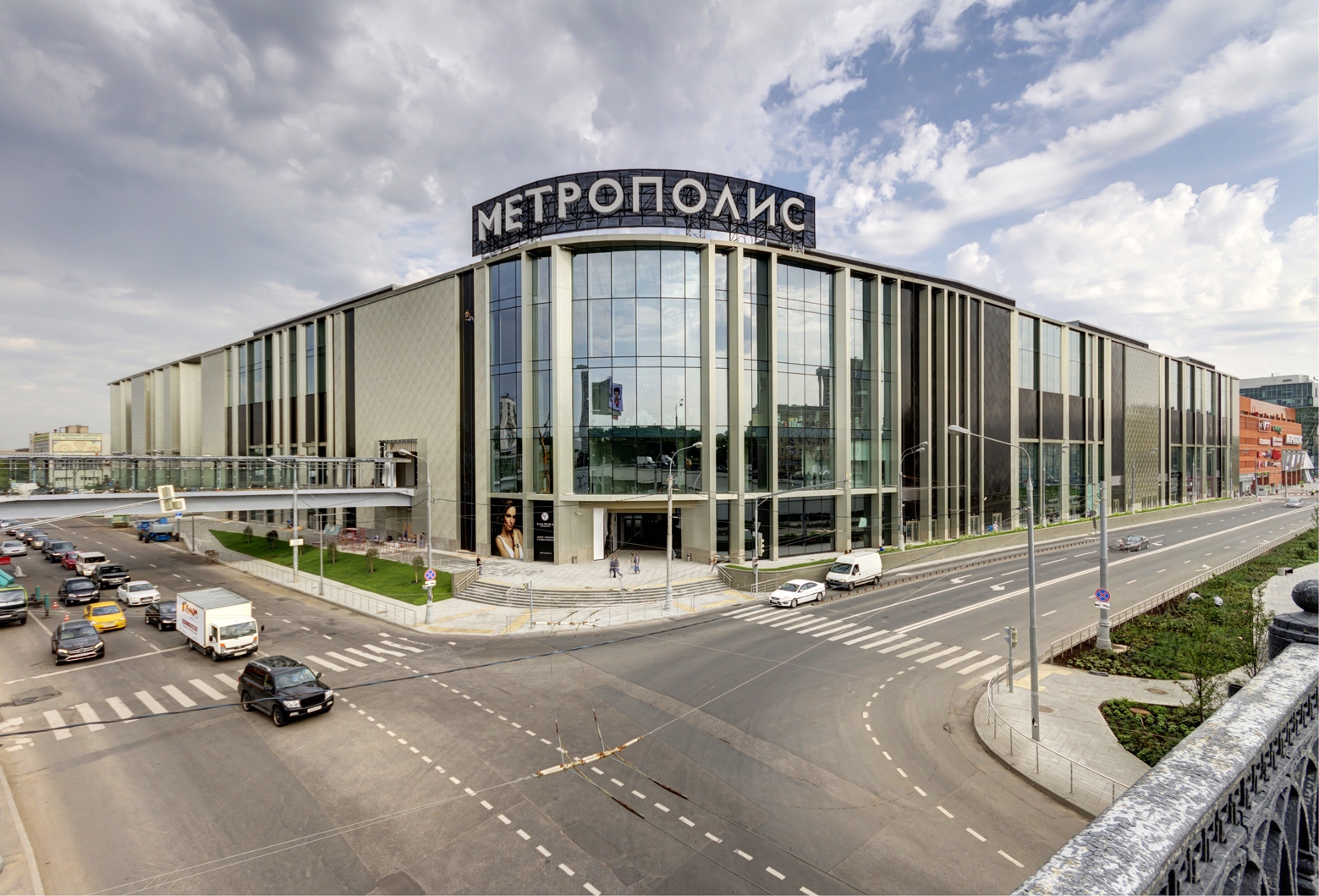 Metropolis is a cult place for shopping fans. The first store of the Swedish brand H&M was opened in this mall. This shopping complex is radically different from its metropolitan counterparts. It'd different not only with its filling but also with an attentive attitude to customers. Brands such as New Look, SMYK, Bebe and Stockmann are present here.
The easiest way to get to the shopping center is by metro. Having left at the Voykovskaya station, you need to walk 200 m.

Mega Mall Khimki
This is one of the largest shopping centers in Moscow, built in 2006.  The complex offers its visitors a variety of opportunities, combining shopping and entertainment for the whole family. Among the clothing stores, there are both popular inexpensive mass-market brands (Mango, Zara), and premium brands (Calvin Klein Jeans, Lacoste). 
The Mega Khimki shopping center is located in the north of Moscow. The closest metro station is Rechnoy Vokzal, and shuttle buses to the mall are running every half an hour.
 
Online shopping
How is it possible to quickly get the most recently released news of fashionable clothes? Naturally, in online stores on the Internet. Besides the fact that you can buy everything here, it's also very convenient. You do not even need to leave your own home. You can see thousands of the most interesting offers from the most leading brands from your laptop or a smartphone. Thanks to this, you can purchase the desired product, while spending a minimum amount of your precious time.
Lamoda
Lamoda.ru is the largest online store in Russia. It represents more than 500,000 products and 700 genuine world brands of clothing, shoes, and accessories. Today, the company employs more than 800 people and also has a delivery service throughout the country.
Wildberries
It is the largest clothing and shoe store in the Russian online market. This business was born in 2004. The main mission of the store is to make Russian women more colorful and go away from the standard of black and grey.
Ozon
One of the largest online stores of Russian. The first launch of an online bookstore was carried out 20 years ago. Since then, the company has expanded its range by offering customers household appliances, household goods, cottages, children and families
Shopping is not only fun, but also rather exhausting. So on this day, the country's shopping centers prepare many pleasant surprises for their visitors. Follow our tips and this Black Friday in Moscow will bring you the best items for the lowest prices.